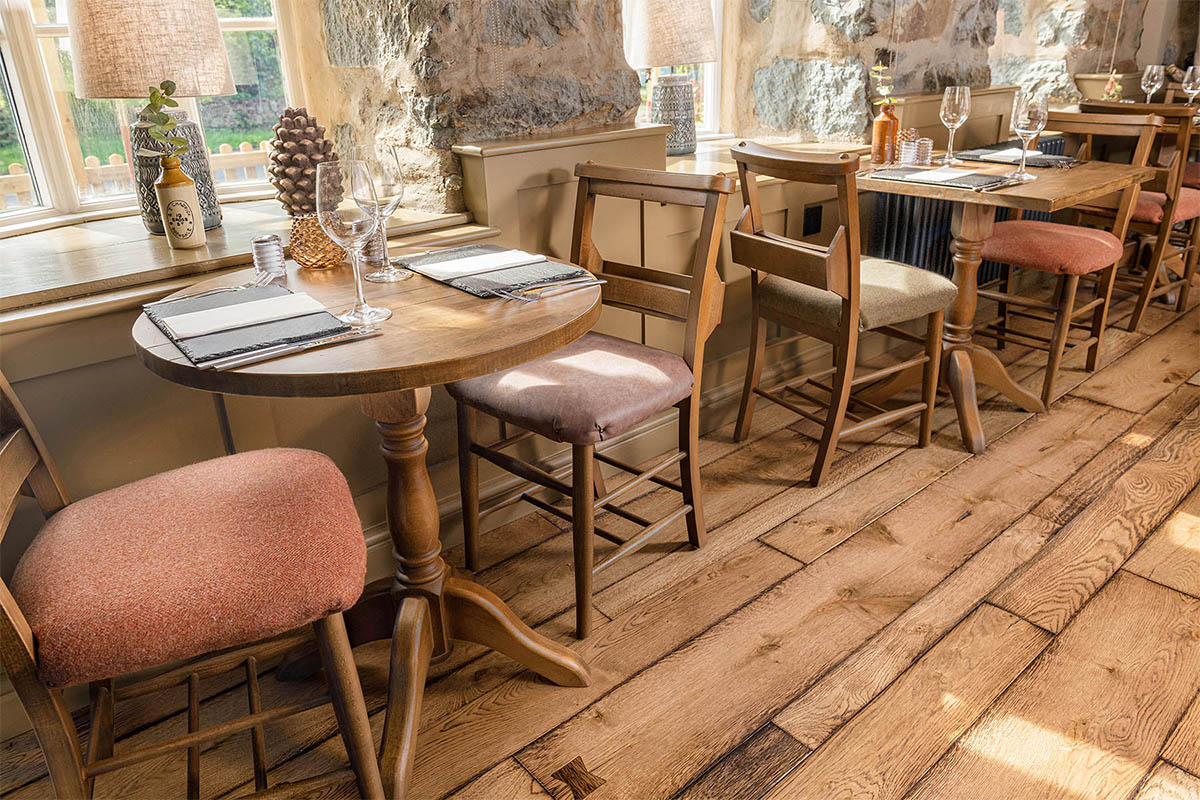 Explore a range of distressed wood flooring options, including both engineered oak and solid hardwood flooring, offering you the perfect blend of rustic vibes and impressive durability. Various distressing methods can be applied to make a new floor have the appearance of an aged floor. Each plank is carefully crafted to recreate the authentic look and feel that aged wood floors offer.
The worn look is created through a range of surface treatments including; brushed, bandsawn, and skip-sawn. This is combined with a rustic or super rustic grade to create a stunning distressed finish which oozes character. The effect can also help conceal future wear and tear by blending in scratches, making it an ideal solution for commercial spaces with heavy footfall. 
Multiple choices of profiling are also available, including tumbled and cobbled edges, which creates random dings, dents and marks on the edges of the boards.
To find out more about our distressed wood flooring options call us on 01902 791 327 or email [email protected].
Frequently Asked Questions
What is distressed wood flooring?

Distressed wood flooring refers to a flooring style that replicates the appearance of aged and weathered wood. It is intentionally designed to have a worn, rustic look with textured surfaces and unique markings. 

Is distressed wood durable?

Yes, distressed wood flooring can be highly durable. While the distressed appearance may give the impression of a fragile surface, the wood used in the flooring is carefully selected for its strength and durability. It undergoes a specialised process to enhance its resilience and longevity, ensuring it can withstand everyday use and foot traffic.

Can you refinish distressed wood floors?

Yes, distressed wood floors can be refinished. One of the advantages of engineered and hardwood flooring, including distressed wood, is that it can be sanded down and refinished multiple times over its lifespan. This allows you to restore the appearance and rejuvenate the surface of your distressed wood floors, keeping them looking fresh and beautiful for a lifetime.
Manufactured
in the UK
Free samples
available
Bespoke options
available
Sustainable
wood floors
View our brochure
Our new brochure is packed full of hundreds of new products, creative design solutions and inspirational flooring ideas.
DOWNLOAD BROCHURE (PDF)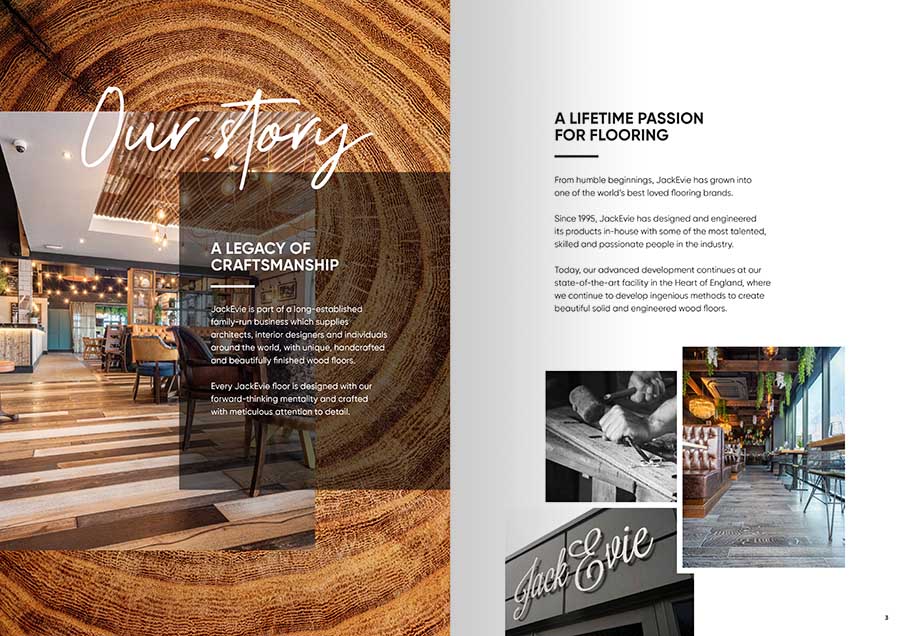 Contact us
We recommend booking in advance before your visit
Telephone
01902 791 327
Email
Visit us
JackEvie Floor Collections
Unit 21, Calibre Industrial Park,
Laches Close, Four Ashes,
Wolverhampton WV10 7DZ
Opening Hours
| | |
| --- | --- |
| Monday | 9:00am – 4:00pm |
| Tuesday | 9:00am – 4:00pm |
| Wednesday | 9:00am – 4:00pm |
| Thursday | 9:00am – 4:00pm |
| Friday | 9:00am – 4:00pm |
| Saturday | Closed |
| Sunday | Closed |