TERMS & CONDITIONS (DELIVERY)
Delivery of Goods
1.1 We will deliver the products to the location set out in the Order. Delivery shall occur when you take possession of the goods or when the goods are ready for unloading at the delivery address.
1.2 Any dates and times we specify for delivery of the goods are an estimate. We shall not be liable to you if we do not deliver on or at any date or time.
1.3 Delivery charges quoted are valid at the time of quote and may subsequently vary if there are changes in the quantities of timber, delivery location or a specific delivery time required. We will endeavour to supply the best delivery rate available to us but you are welcome to source your own. To ensure we offer the best delivery rate it may mean your goods are delivered over separate deliveries.
1.4 Upon delivery the customer must ensure that adequate assistance, equipment and personnel are available to unload the products upon delivery. We may charge you an additional fee if you delay in taking delivery of the goods. We can supply at a premium, dedicated delivery service, to which we will arrange for products to be unloaded at the Delivery location.
1.5 If you fail to accept delivery of any goods when they are ready for delivery, or we are unable to deliver the goods because you have not provided appropriate instructions or consents, we may store such goods until delivery and you shall be liable for all related costs and expenses arising from such non-delivery including transport and storage costs. If you fail to accept delivery of the goods within 6 months of the date of contract. We may sell or dispose of those goods (whether or not you have paid for them). Storage or disposal costs shall he recoverable from you.
1.6 Once goods have been received and accepted, we will not be liable for any damage due to inadequate storage conditions.
1.7 A signed delivery note confirms receipt of goods ordered; all goods must be checked and any discrepancies must be reported within 24 hours of delivery.
1.8 All subsequent orders from the original will incur a delivery charge.
1.9 Ownership of the goods shall not pass to you until we have received in full (in cleared funds) all sums due to us in respect of the goods, unless you hold by prior agreement an account with us.
Manufactured
in the UK
Free samples
available
Bespoke options
available
Sustainable
wood floors
View our brochure
Our new brochure is packed full of hundreds of new products, creative design solutions and inspirational flooring ideas.
DOWNLOAD BROCHURE (PDF)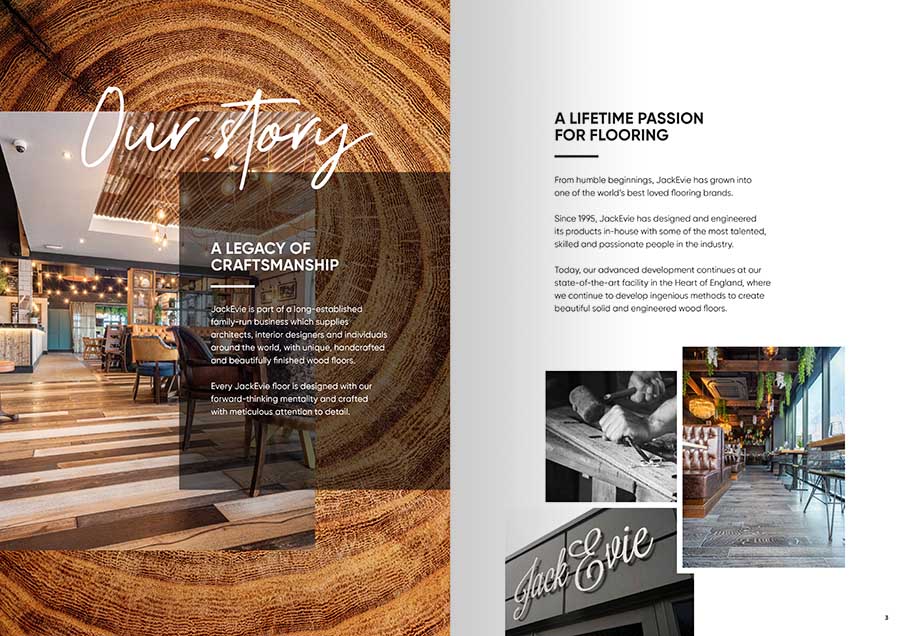 Contact us
We recommend booking in advance before your visit
Telephone
01902 791 327
Email
Visit us
JackEvie Floor Collections
Unit 21, Calibre Industrial Park,
Laches Close, Four Ashes,
Wolverhampton WV10 7DZ
Opening Hours
| | |
| --- | --- |
| Monday | 9:00am – 4:00pm |
| Tuesday | 9:00am – 4:00pm |
| Wednesday | 9:00am – 4:00pm |
| Thursday | 9:00am – 4:00pm |
| Friday | 9:00am – 4:00pm |
| Saturday | Closed |
| Sunday | Closed |